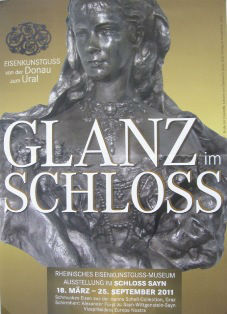 "Splendor in the Palace – Cast Iron from the Donau to the Urals"
Currently in Germany 130 pieces from the Emperor and King Monarchy from the Schell Collection are on display in their restored glory. The Rheinische Eisenkunstguss Museum invites you to view exceptional cast iron objects. Included are delicately crafted busts of Empress Sisi, the Duke Zichy Cup with various scenes of miners and much more.
So that you will be able to take some of your impressions with you back home, the new book "Cast Iron from the Austria/Hungarian Monarchy" written by Mag. Martina Pall will be presented at the exhibition. It contains beautiful photographs of the objects together with detailed information on the different foundries.
The exhibition ran from March 18th until September 25, 2011.