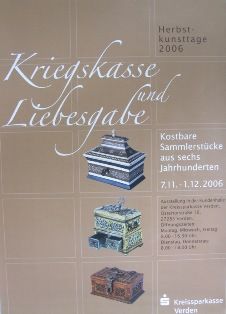 "War chests and gifts of love" – Precious collector pieces from six centuries
For each individual there is something different that is valuable, but what they all have in common is that they want to be sure this objects is safe and secure. Examples of these secure storage locations could be seen in 2006 at the Kreissparkasse in Verden/Aller- Wether ivory, tortoise shell, iron, wood or amber, the caskets that provided protection for such treasures are themselves enough reason to make the trip.
The exhibition ran from November 7th to December 1st, 2006.